19-yr-old pregnant wife takes hubby to car shop, buys him Lamborghini worth N87m
19-Year-Old Pregnant Wife Buys Her Husband Lamborghini Huracan Evo Worth N87M, Gifts Him Car in Romantic Video, A pregnant woman who will soon give birth and go into traditional postpartum rest has gifted her husband a Lamborghini Huracan Evo worth N87 million.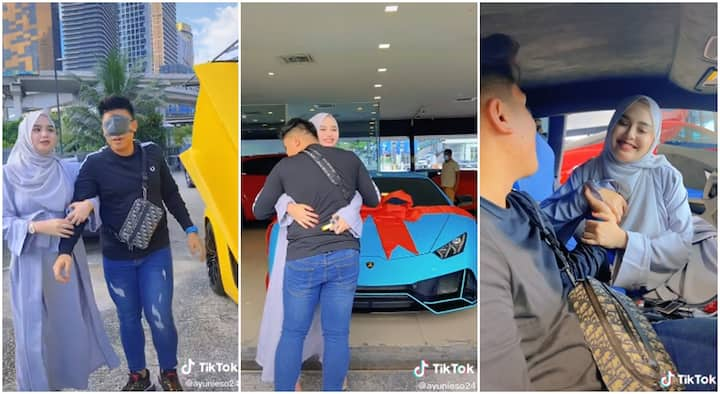 When Anes Ayuni Osmanis, 19, gives birth later this month, her husband Weldan Zulkefli will have to care for the baby so that his wife will recover.
This is traditional and the rest after childbirth takes 100 days. During this period, the husband will have to take charge of things.
Anes is a successfull cosmetic queen in Malaysia.
Reward for expected sacrifice and sleepless nights
So as a reward for Zulkefli's expected sacrifice for the 100-day postpartum rest, his wife surprised him with the huge gift.
She presented the car to him in a romantic video shared on Tiktok. In the video, she led her husband blindfolded into a car dealer's shop where the huge gift was unveiled. While sharing the video, she wrote:
"Thank you husband, no matter how big the value of this gift will not be able to reciprocate your kindness."
Watch the video below:
`
@ayunieso24

#ad Bagi awl2 hadiah utk jaga sy dlm Pantang nnti 😘 Terima kasih suami , besar mana pun nilai hadiah ni takkan dapat balas kebaikan awk #fyp #ad #vitamilk
`