Breaking: Angelique Kidjo wins Grammy Award for best global album, beats Wizkid
Grammy 2022: Angelique Kidjo Wins Award for Best Album, Beats Wizkid, Others, Angelique Kidjo has won in the best global album category at the 2022 Grammy Award, a position Wizkid's Made in Lagos was vying for with others.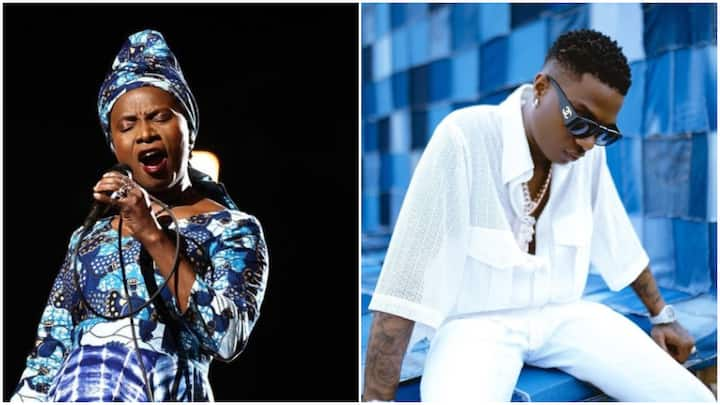 During her speech, Angelique said it is a big win for Africa. It should be noted that the Mother Nature crooner has won the Grammy many times in the past.
Many times a winner
According to a biography on her official website, her album DJIN DJIN won a Grammy in 2008 for Best Contemporary World Album.
The legendary singer has toured all over the world to give electrifying performances.
The Nominees
Albums and people in the category are as follows:
Voice Of Bunbon, Vol. 1 by Rocky Dawuni
East West Players Presents: Daniel Ho & Friends Live In Concert by Daniel Ho & Friends
Mother Nature by Angelique Kidjo (WINNER)
Legacy + by Femi Kuti And Made Kuti
Made In Lagos: Deluxe Edition by Wizkid
Wizkid's FC disappointed
Below are some of the reactions from mostly Wizkid's fans on Twitter when the news broke:
@babylovevii said:
"Wizkid no win? Ehya, maybe next time he'll win but at least he has one from last year's Grammy."
@Dei_mills said:
"You'd be very silly to think #GRAMMYs is an honest award show."
@tayoadebayoM said:
"Everyone knows that Wizkid is rubbed, but we move. He made the biggest music and biggest album out of Africa. Everyone knows."
@chocovindekings said:
"Seriously? Wizkid didn't win in any category."
@Adeyemiai0 said:
"Omo 3 heartbreak in a week. Nigeria. Chelsea. Wizkid."