Fans storm Lizzy Anjorin's home with over 30 cakes, 'paranran' on her birthday
Lizzy Anjorin Shocked As Fans Storm Her Home With Truckload of Cakes, 'Paranran', Other Gifts on Her Birthday, Controversial actress, Lizzy Anjorin, has taken to social media with a video of how some other fans came together to spoil her on her birthday.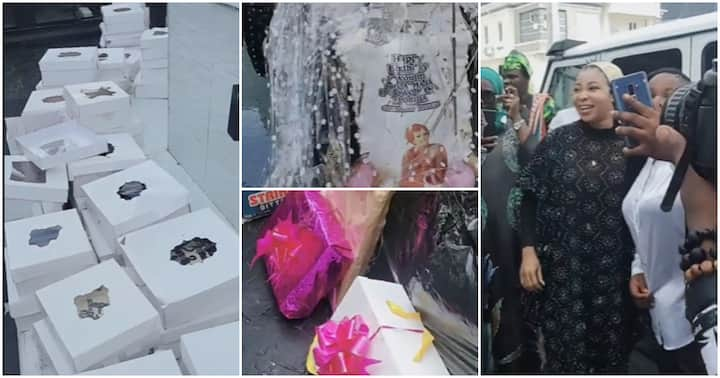 In the video, a group of people were waiting for the actress in her compound while her husband led her out of the house.
The team had assembled in one corner over thirty cakes in boxes, and Lizzy could not hide her shock when he saw it.
The actress attempted to count the cakes before she turned to her people, danced and took pictures with them while a trumpet man aka 'paranran' played popular tunes.
Different phones and cameras emerged to capture the moment.
Towards the end of the video, Lizzy turned to the cakes again and noted that there would be about a hundred boxes while her fans assured her that there were more gifts on ground.
Watch the video below:
`
`
`
Veteran actor Yinka Quadri also took to his page to celebrate and give his best wishes to Lizzy.
`
`
Fans and colleagues celebrate with Lizzy
theladyjokelet:
"Happy birthday mama ❤️"
iamadeniyitayo:
"Happy beautiful birthday sis ❤️❤️❤️❤️ more glorious years mummy Florida "
officialbisolabadmus:
"Happy birthday darling."
iredimeji:
"Happy birthday to a mother, an icon.. Woman with good heart. A barrier breaker.. A great and visionary person. Her generosity is inexplicable and adorable and it makes people feel brand new every time."
fanawopofolashade:
"I celebrate your special day beautiful gorgeous woman "
sandyalaara:
"Awwwwwwwnn. This is so beautiful. Happy birthday ma."