Few adults still do it: Girl reacts in video as mum stops her from sucking thumb
Nigerian Mum Stops Cute Daughter From Licking Fingers, Puts Thumb Restraints on Her Hands, She Reacts in Video, A beautiful little girl became frustrated the moment she was stopped from su*cking her fingers as she used to do in the past.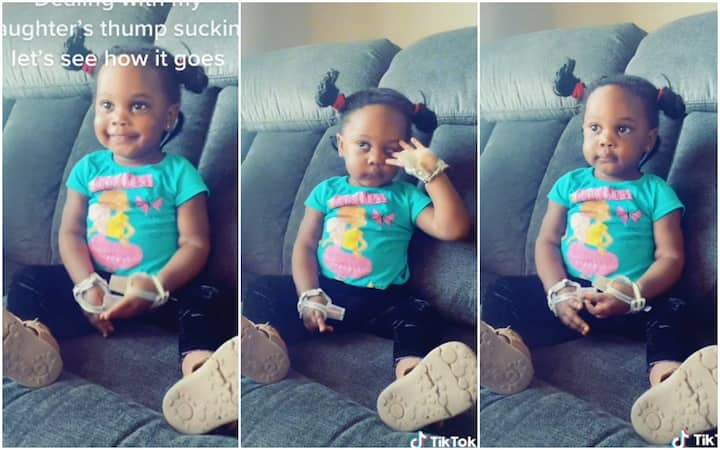 Her mother is bent on stopping the childish habit of always putting her fingers, especially the thumb in the mouth and su*cking it.
She bought a thumb restraint
In a bid to stop the cute girl from continuing with the habit, the mother bought a thumb restraint, which is used to hide the thumb and prevent it from being "feasted on".
The thumb restraint frustrated the girl and then she showed it on her face even though she smiled a little bit.
Watch the video below:
`
`
Tiktok users react to video
Some adults have admitted that they still su*ck their fingers, several years after leaving childhood. They were reacting to the video shared on Tiktok by @akumbunyinmah.
Here are a few comments on the video:
@TikToker said:
"I'm 38 and it's a hard habit but I do it in private. It comforts her."
@brown51917 commented:
"My cousin did it so much it messed her front teeth up."
@roselin reacted:
"I su*cked mine since I was in my moms stomach and I still do sometimes and my teeth are straight."
@Emerald Andrena commented:
"Good luck and do what you can now because I'm 21 and still do it, everything was tried growing up."