Get suited up like Alexx Ekubo: Actor serves style inspiration in 5 looks
Actor Alexx Ekubo Shows How to Rock Suits Like a Gentleman in 5 Dapper Photos, When it comes to stylish men in Nollywood, Alexx Ekubo's name easily pops up and a trip to his Instagram page will more than convince you.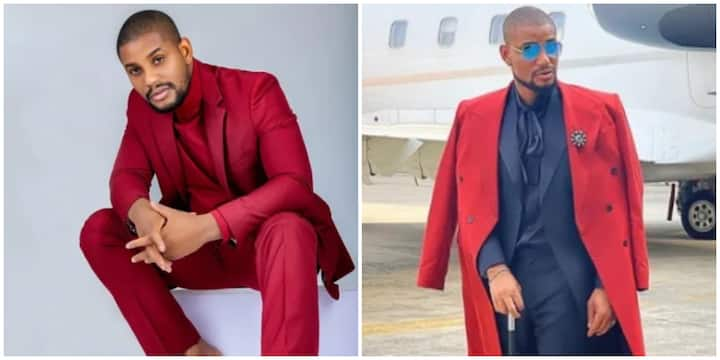 The movie star isn't just talented when it comes to character interpretation, but also when it comes to putting together dapper ensembles.
Scattered across his social media page are photos of the star in stylish pieces which speaks of how intentional he is with his sense of style.
Check them out below:
Look 1
In this photo, he rocked a plain black well-tailored suit with a pair of sleek leather shoes.
He brought an edge to the look with a gold and black print shirt worn underneath his jackets. The actor looked dapper as he struck a gentleman pose.
`
`
Look 2
In this second photo, the actor came through with the 'Peaky Blinders' vibe in this ensemble.
Here, he opted for a black shirt which he wore underneath a basic black suit.
Adding pizzazz to the look, he added a vibrant red long coat over his shoulders and accessorised with a walking stick and some sleek black shoes.
`
`
Look 3
In this monochrome look, he rocked a black suit, sporting a white cravat.
He picked some matching accessories, suave sunshades and leather shoes. The smile on his face could be an indication that he was satisfied with his look.
`
`
Look 4
Here, the actor added a bit of a twist to the conventional suit look.
In this photo taken for Netflix, he rocked a white shirt underneath a black suit and draped an Isiagu fabric over one of his shoulders. He complemented the look with a cute bowtie.
`
`
Look 5
In this photo, Ekubo came through with the monochrome vibes, rocking an all-red ensemble.
He sported a red turtleneck top underneath the red two-piece suit. This time, he decided to ditch the shoes as he posed barefooted.
`