How Femi Adebayo, Ronke Odusanya, other stars turned up in style for Aisha Lawal (Video)
Yoruba Nollywood stars came out in numbers to support their colleague, Aisha Lawal over the weekend when her sister tied the knot in a lavish wedding.
Aisha Lawal overwhelmed with the outpour of love she received from them, took to her Instagram page to appreciate them.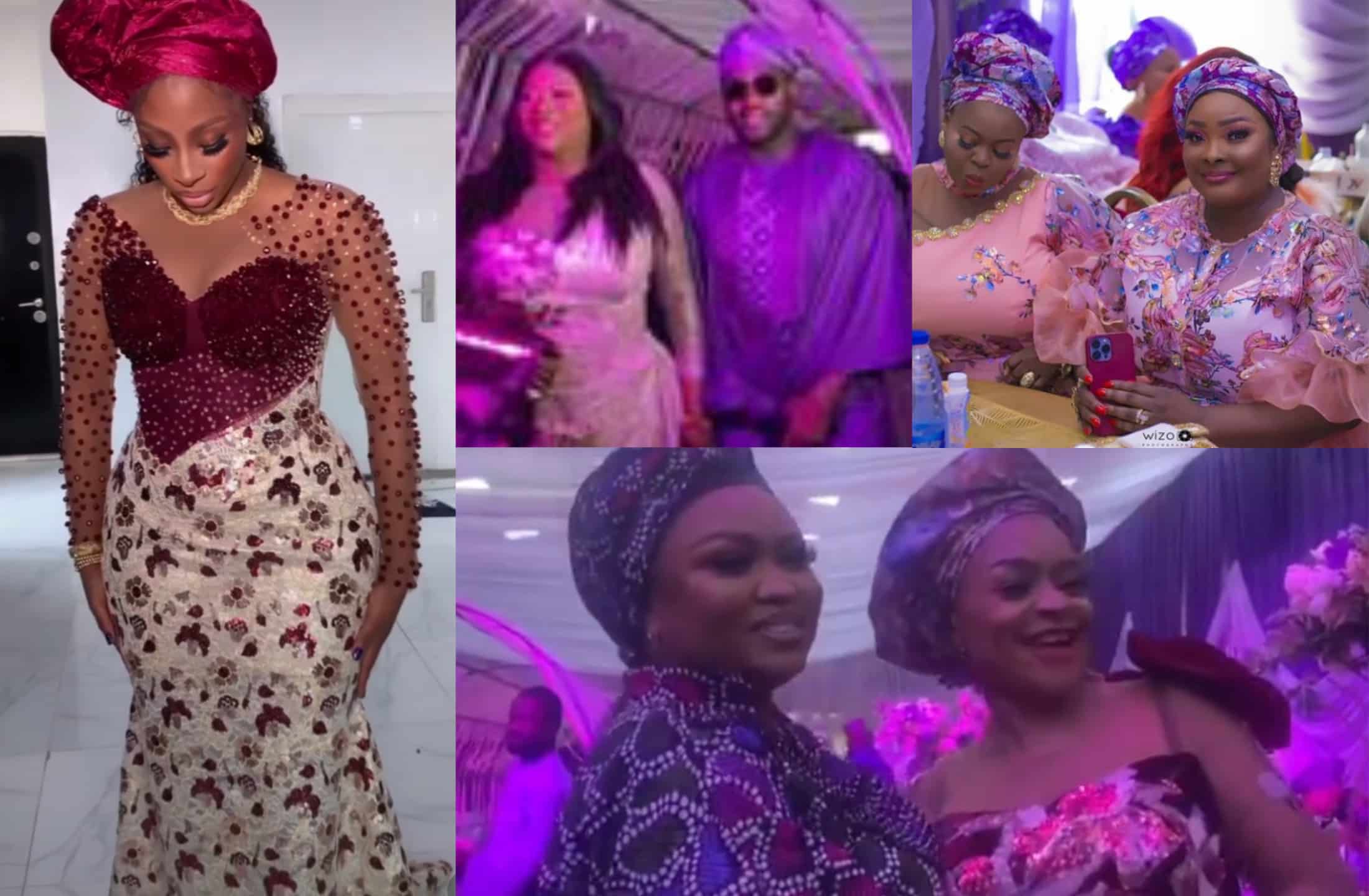 Aisha expressed her gratitude to Femi Adebayo and his wife, Ronke Odusanya, Muyiwa Ademola, Toyosi Adesanya, Folorunsho Ademola and others.
Appreciating them, Aisha Lawal rained prayers on them for their unending support.
Kemi Filani news recalls Nollywood actor, director, and producer Wasiu Adedeji had tied the knot to his lover, Eniola Ayo.
KFN reported that the actor had announced his engagement to Eniola on August 1st in a lengthy post on Instagram.
The actor revealed that he reached out to his now-wife on February 3rd through her Instagram dm.
According to him, he was scrolling through Instagram when he saw a colleague's page and decided to reach out to her.
Eniola proved so hard to get and gave him a difficult time, but he eventually won her heart.
The lovebirds got married legally on August 26th.
Wasiu and Eniola tied the knot at a star-studded wedding ceremony on Saturday, August 28th.
Yoruba Nollywood stars came out in large numbers to support the newly wedded.
Veteran actor, Adebayo Salami shared photos of celebrities in attendance.
Spotted at the event were Adebayo Salami, Mama Rainbow, Muyiwa Ademola, Yetunde Bakare, Olamilemiliom Olaitan Jewoola better known as Omo Adugbo, Akintunde Yusuf (Amuda Eko), and Titilayo Adeoye.
Wasiu revealed that the peace he felt around her was heart melting and she is beautiful in and out.
The actor affirmed his undying love for her.
"The peace I feel around her is heart melting, beautiful in and out. I love you now and forever Idunumi".
Kemi Filani news also recalls that Aisha Lawal was grateful to God for sparing her life after a close shave with death while delivering her baby girl.
The actress welcomed a baby girl in 2018 but she shared details of all that she went through during delivery her baby in 2019.
"365 days ago, the angel of death kept knocking, but my faithful God said NO, not today, not anytime soon🙏🙏 1 whole week of persistent false contractions/labour, Baby rested on pelvic bone,cldnt walk or bend, sagging cervix, 13 hrs of serious labour, serious tears and stitches after vagina birth, sudden postpartum hemorrhage, causes not known, emergency theatre, lungs collating water while undergoing treatment in theatre while I was unconscious, 48 hrs in ICU (All ds while my mind kept telling me I was nt gonna mk it😢) stitches got healed finally exactly 1 month after childbirth 😢.So tell me why I won't be grateful, Oba to fi anu gba mi, Olorun to rami pada,Olohun to ni ma si wa laye lati jeri oruko oun, SO IT'S OFFICIALLY MY DAUGHTER AND I 'S BIRTHDAY COZ I WAS GIVEN ANOTHER CHANCE TO LIVE, IT'S ZEE'S 1ST BIRTHDAY AND MY OWN REBIRTH TOO🙏🙏🙏🙏🙏ALHAMDULIAHIROBILAMIN 🙏🙏🙏🙏 I NEED UR PRAYERS COZ DT'S WOT KIPS ME GOING❤❤❤ NB MY FRNDS IN D US WERE D REAL MPV #FUNMILOLAOGUNSOLA #SHEYIASHEKUN EVEN THOUGH U GUYS WERE BOTH PREGNANT THEN🙏🙏🙏🙏 GOD BLESS YOU BOTH #SHEYIASHEKUN SAID "I HAVE NVR BIN DT SCARED IN MY LIFE"
Content created and supplied by: kemifilani.ng