How I beat pelvic cancer, gave birth to triplets, woman
What you should know: Doctors encouraged Faith to take her eggs before beginning her 33 rounds of radiotherapy on the grounds that she might not become pregnant again. She didn't, though. She beat the odds by conceiving naturally in April of last year.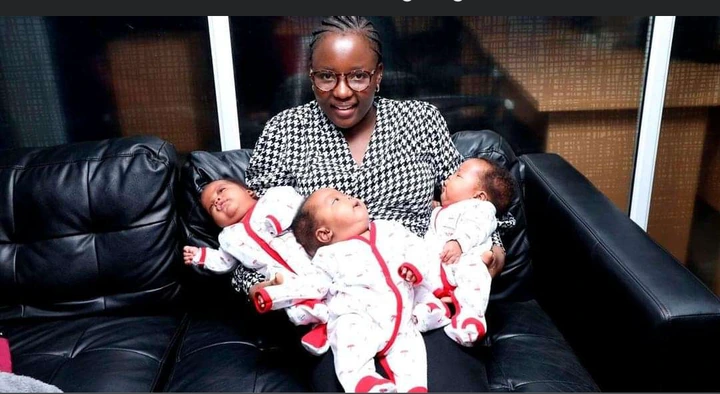 At 30 weeks, she gave birth to three healthy babies: Jabali weighed 1.5 kilograms, Karl 1.4 kilograms, and Archie 1.3 kilograms. Faith Mutsoli is my name. I am 32. As the fourth child in a family of seven, I was born and reared in Kakamega County.
Being orphaned at the age of 10 prevented me from having the affection of my parents, but my older sister paid for my schooling, allowing me to graduate in 2014 with a degree in journalism and public communication even though I am currently unemployed. I received a stage two osteosarcoma diagnosis in 2021; this bone cancer is fatal.
I had finally found the answers I had been looking for for a very long time thanks to the late Dr. Daniel Alushula and his team, who worked as orthopaedic surgeons at Kakamega County Medical Hospital. He informed me that my pelvic bones were severely impacted following three incorrect diagnoses, which occurred shortly after I gave birth to my first child in 2019—a year after getting married.
It began as a burning sensation that grew more intense everytime I took a lengthy stroll. I assumed it was commonplace and anytime I submerged my legs in cold water, I felt the immediate relief I required. Whenever I went for a walk, the burning would return. And if that weren't enough, I also began to have sporadic severe pains, mostly in my chest at night. These might go for five to ten minutes.
I had been bouncing around from hospital to hospital ever since I first started becoming sick in 2014. I kept receiving incorrect diagnoses. I was initially diagnosed with arthritis by a doctor, who also prescribed me arthritis medication and instructed me to avoid eating specific foods that seemed to worsen the discomfort. I chose to go to a different hospital in Nairobi on Thika Road, where I was informed that I had typhoid "that had made its way to my legs.
Source: Link
Content created and supplied by: Laygendwrites (via Opera News )