"I shed hot tears while talking about you" Adesua Etomi reveals 27 things she loves about Jemima Osunde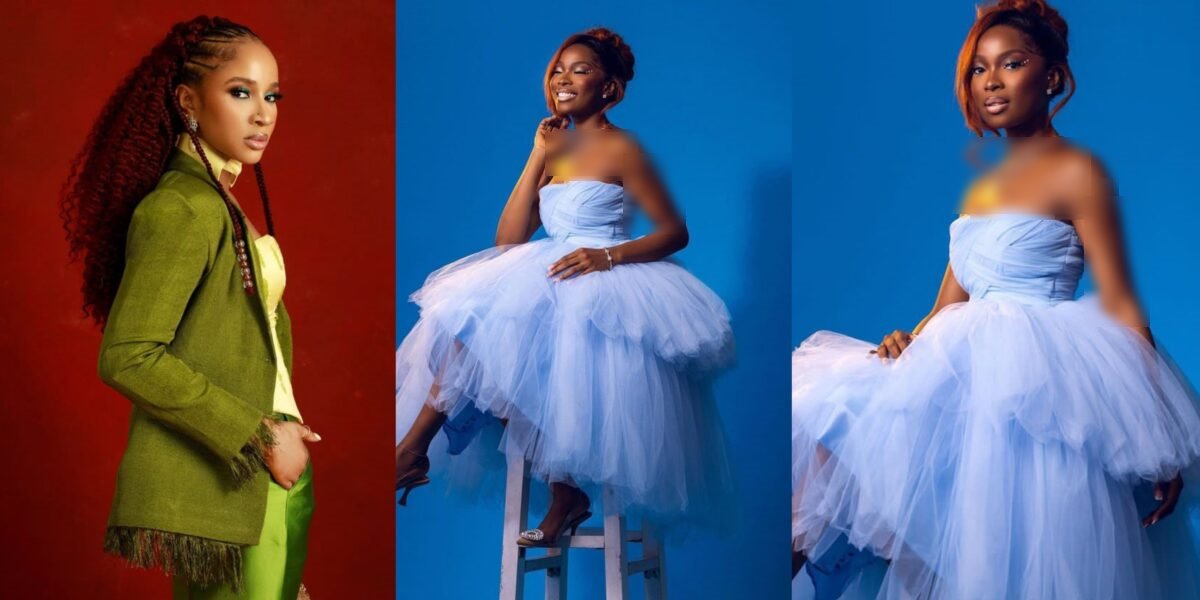 Nollywood actress, Adesua Etomi has revealed 27 things she loves about her best friend, Jemima Osunde who celebrated her 27th birthday yesterday.
In a lengthy post on her Instagram page, she revealed that she shed tears while talking about her.
She wrote,
1) Her heart (more beautiful than her gorgeous face)
2) Her consistency
3) Her coconut head (you have to take the bad with the good)
4) Her intelligence (not just with education.
Sometimes, she doesn't have sense Sha, but this is only once in a while.
5) Her dry sense of humor ( I have suffered)
6) Her laughter (It's like high-pitched music)
7) Her resilience (I have seen her bounce back from multiple situations that could have broken her)
8) Her ability to be present (when she's not pressing phone Sha)
9) Her dedication to the people that she loves (Jemima does this thing with ease to multiple people the same time. It's truly incredible).
10) Her honesty (It can be much, but I will take that anydayyyy)
11) Her talent (my baby girl is madddfff talented phew)
12) She's the most best godmother in the universe. (I knew she was gonna be amazing to Z, but it's sooo much more than I could have imagined. She's legit his second mum).
13) Her interactions with Zaiah (It's so beautiful to watch her with my offspring).
14) How she loves me (In fact I have a theory that she loves me the most. After her mum, dad, and siblings Sha).
16) That she thinks to talk to me when she's sad (I love that I can be for her, what she is to so many people).
17) She's a go-getter (If you don't offer her what she thinks she deserves, she will do a presentation for you and you will give her. I've learned so much from the chances she takes)
18) She's both tight and free with her riches (Lmao. She knows what I mean. She's a giver but also am alaroro).
19) We can spend hours doing nothing and it's still a vibe (we have Ph. D.s in this).
20) How she takes care of her parents (it really is the sweetest thing… Jumjum and Douglas are blessed).
21) How she shouts MAMAA every time she sees me
22) She's incredibly kind (this one should have been at the top hit I forgot. Wun).
23) Her love for food (it reflects in her inner man. Her body will catch up).
24) Her journey with Jesus.
25) That I know that last video will be us when we're old. Sisters forever.
26) Her independence
27) That this list was sooo easy to write. I love you so much Jem and I am incredibly grateful for you. Couldn't have asked for a better little sister.
Always rooting for you and praying for you. May this new year blow your mind and may it be filled with the goodness of God on every side. You deserve the best friend and it is here. Happy birthday my darling".
Adesua Etomi-Wellington writes Jemima Osunde as she celebrates birthday
Last year, Adesua Etomi-Wellington writes Jemima Osunde had taken to her Instagram to pen down an emotional message to her.
Adesua who described Jemima Osunde as a designer handbag', 'sister' 'pest, 'and sometimes' gym buddy', said the doctor cum actress has been bugging her life for 7 years but she won't have it any other way.
The wife and mother of one also described her as consistent and fiercely loyal, and that she has never questioned this for a single day in 7 years.
She wrote:
You've been bugging my life for 7years and I won't have it any other way.
My designer handbag, my sister, my pest, my 'sometimes' gym buddy( cause you're not really focused), my baby's God mummy.
Here's what I've learned about you in 7 years.
You are consistent. You are exactly who you say you are.
You are fiercely loyal. I have never questioned this for a single day in 7 years.
You ALWAYS show up for me. You have been there for every high point of my life and more importantly, for every low point.
You are hilarious in the driest way possible 🤣🤣🤣🤣
You and K-dramas are one 🤞
You are so smart (save this, I only say it once a year)🤣🤣🤣
You are incredibly talented.
Content created and supplied by: kemifilani