Kid Adopted and Saved from Street by Kind man, Wins Maths Award in Lagos
Nigerian Kid who was saved by a kind man has worn a mathematics award barely one year after being picked off from the street and sent to school. In 2021, a story of a kind man, Tunde Onakoya who took a little boy who always picked scraps from a slum in Ikorodu off the street and enrolled the kid in school went viral.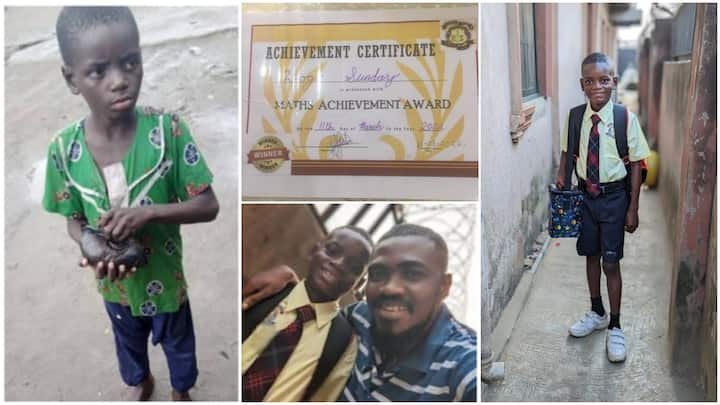 Barely a year after the transformation, the little boy has proven that sometimes what most people need in life is a helper.
The kid has been awarded a Mathematics Award for his great achievement in school, @mrmadoika revealed on twitter.
Reacting to the good news, some Nigerians on Twitter were amazed at how the child's life completely transformed, saying it is a good example of how opportunities can change lives.
Below are some of the reactions to the amazing story:
@flawed_entity said: 
"So this little kid that was roaming around picking scraps without any help is a math genius.. thank God you located him."
@Yhormite01 said: 
"Talent is universally distributed opportunity isn't."
@HygienTecnician said: 
"So the little kid that was roaming picking up scraps was a math genius… Life's so unfair!"
@charmingdimplee said: 
"Wow! Congratulations to him, God bless you both."
@adelacuna001 said: 
"Thank God for this, imagine the destiny that would have been wasted." 
@Extranessa45 said: 
"All some people lack are opportunities. This kid is a clear example. May he grow up to be great.