King Saheed Osupa blushes hard as Kenyan fan sings his songs word for word
Fuji Star Saheed Osupa Blushes Hard in Video As Kenyan Lady Sings His Songs Word for Word After Meeting Him, Popular Nigerian Fuji artiste, King Saheed Osupa, has shared one of his surprising moments in Kenya with fans on his social media page.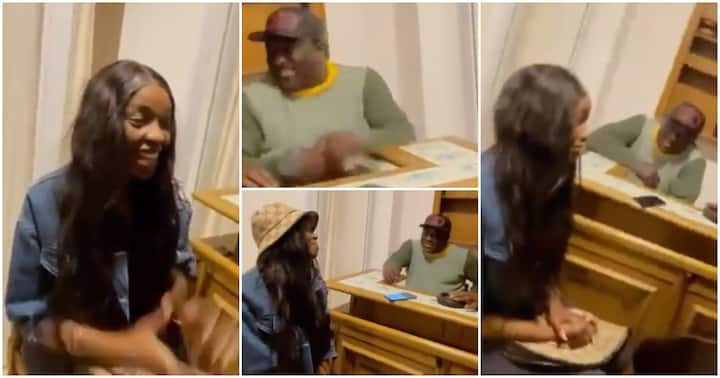 Taking to his official Instagram page, the Fuji maestro shared a video of his encounter with a Kenyan lady who could sing his songs.
In the clip, the lady who identified herself as Christine Molewa explained that she is perhaps Osupa's biggest fan in West Africa.
Also in the video, Osupa asked Christine how she came to know his songs or understand the Yoruba language. She then explained that she used to be married to a Nigerian man.
Christine explained that her ex-hubby made her know Osupa's songs and she fell in love with them and also with the singer even more than her own man.
The young lady then added that she even has a favourite Osupa song. Upon the singer's request, she sang one of his tunes.
Her rendition left the Fuji artiste and other onlookers in awe as they laughed in excitement.
Christine also called Nigeria her second home and showed interest in visiting the country.
In the caption that accompanied the video, Osupa noted that music is a universal language and that his meeting with Christine was one of the highlights of his trip to Kenya.
He wrote:
"My time in Kenya was greeted with so many surprising moments, however, my encounter with this beautiful Kenyan lady @iya_alaje1 , who is so fond of my songs, and claimed to be my biggest fan in East Africa, was one of the most astonishing highlights. It is a reaffirmation that music is, indeed, a universal language.
"Thank you Kenya! Thanks for the ceaseless love at home and overseas."
See the video below:
`
Officialkunleadegbite:
"Sweet to watch."
Mustiphasholagbade:
"This beautiful to watch."
Ibrahimchatta_lordthespis:
"Kaabieesi Oba Olufimo to d world ❤️❤️❤️❤️❤️."
Vikrown:
"I listen to your song in the U.S. every day here I no get recognition."
The_almubarak1:
"A simple message for anybody that's doing music, do it well, the world is listening ❤️❤️❤️❤️❤️❤️❤️ long life the king."