London to Lagos rider covers 11,301km in 34 days, says "Africa not a jungle"
Nigeria's London to Lagos Biker, Kunle Adeyanju rides 11,301km So Far, Says "Africa is a Beautiful Continent", Lion Heart, Kunle Adeyanju who is riding from London, UK to Lagos has said Africa is full of kind people.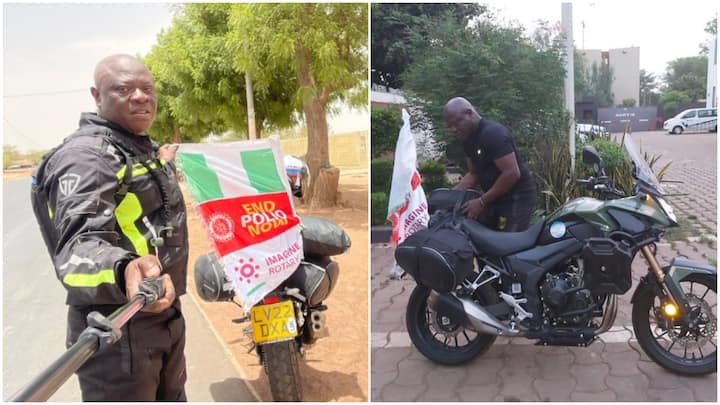 He made the statement in a tweet that he later sent, saying many people he met on the road showed him love all the way.
People helped me, showed me love
Kunle cited an example of when he had a tire issue with his Eagle bike in Mali. He said he pushed the bike into a hamlet and they helped him keep it.
"In this trip of traveling 11,301km across Africa, I have enjoyed the spirit of African hospitality that I never knew existed, people are nice, I did not experience any insecurity issue as portrayed in the western media as Africa being a hotbed of evil.
"Rather when I had a tire issue in the middle of the night people that I thought i was supposed to be afraid of as portrayed in the western media, came to my rescue.
"And in spite not being able to communicate in their local dialect, they did not make me feel unsafe, rather they warmly accepted and helped me. To me that is humanity in Africa!
"Africa is not just about the safari's, the jungle, & as portrayed by media, rather, the people the culture & the diversity of the African continent, tells a much more interesting & better stories that the safari's & the jungle, there is so much more to Africa than safari & jungle."
See his full Tweet below:
`
In this trip of travelling 11,301km across Africa, I have enjoyed the spirit of African hospitality that I never knew existed, people are nice, I did not experience any insecurity issue as portrayed in the western media as Africa being a hot bed of evil,

— Kunle Adeyanju (@lionheart1759) May 22, 2022
`