Moment students wowed school owner on her 45th birthday as she entered class
Nigerian Students, Teachers Give School Owner a Queen's Treatment in Class on Her 45th Birthday, Video Emerges, A school owner's 45th birthday celebration was made memorable by her students and teachers as they showed her love in style.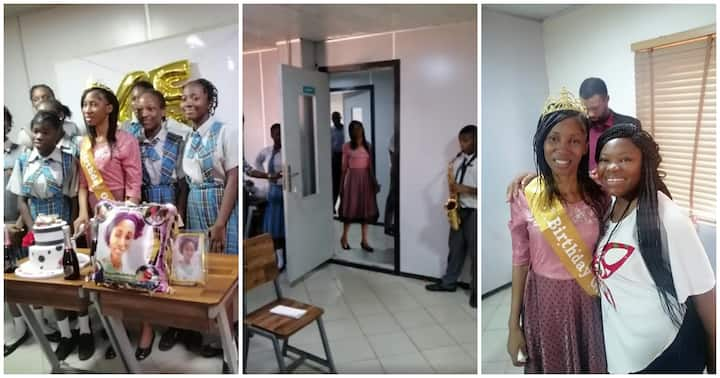 The proprietress identified as Mrs Jola was given a birthday surprise in class, as seen in a video shared by one of the teachers on Facebook.
In the video, an unsuspecting Jola made her way into a class only to be stunned by two students playing a birthday song on saxophones while every other person joined in with their mouths.
Overjoyed by the gesture, she walked across the class to give a warm hug to a female teacher named Chukwunumso Omifenwa.
In another photo from the surprise exercise, the proprietress struck a pose with her students along with the cake and gifts she received.
Chukwunumso Omifenwa showers encomiums on Mrs Jola
Chukwunumso Omifenwa, a teacher in the school who shared the video and pictures, praised the celebrant for being a leader, mother and friend.
She recalled how she met Jola after being posted to the private school during her NYSC.
Omifenwa wrote:
"During my service year(NYSC),i was posted to a private school. And with the challenges that come with serving in a private school, i didn't know what to expect, as i was also pregnant with my second son.
"I thank God we had a woman like Mrs Jola in the school, i call her my NYSC Mummy."
"I am not the only one that organized the surprise party for her. In fact, I am not even the mastermind, one of the teachers came up with the idea and reached out to me to be part of the planning, she said."