Na peacock? Nigerian man fears for his eyes as lady wears broom cap to church
Is That a Peacock? Woman Wears Funny Broom Cap to Church on Easter Sunday, People Fear For Their Precious Eyes, A lady has set tongues wagging with the choice of cap she chose for her Easter Sunday appearance.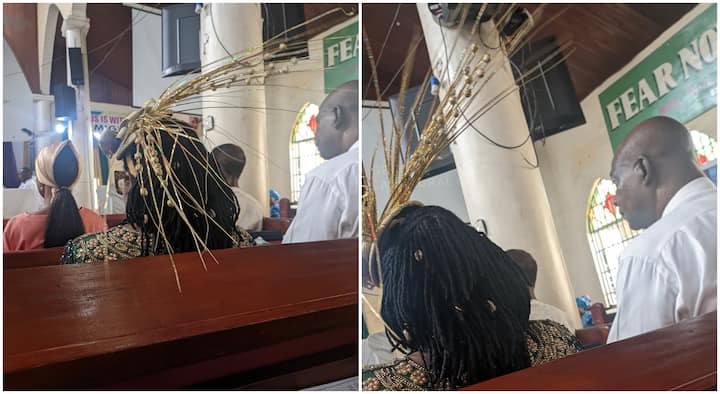 A man captured the photo of the lady's fashion and shared it online, saying it threatened his eyes.
The cap, a delightful fashion item for ladies has set off a chain of reactions on Twitter where it was posted.
It stood on the lady's head and extended backward like the tail of a peacock. It appears capable of threatening anyone sitting at the back of the wearer.
See the tweet below:
`
This Lady almost plucked out my eye balls in church today😪

What is wrong with you women😑 pic.twitter.com/RIsj4QhuXa

— Gallant👨🏽‍💻 (@Iamgallant_) April 17, 2022
`
Nigerians on Twitter react
Meanwhile, Nigerians on Twitter quickly took to the comment section of the twit to share their opinions.
Here are a few of what they are saying:
@Giggy_50 said:
"I initially thought this was a bird nest."
@kingsolosky commentted:
"Some women are just so funny with the kind of hair style they make, but to be serious, men don't send them with all this big load and funny styles?"
@Antho_Jason reacted:
"I know I would've be like "ma please place your branches well. It's obstructing my view."
@tomilayooduyeb1 reacted:
"Have you heard the saying 'As proud as a peacock'."
@Jenni__pher said:
"For her mind na she dress pass this one pass jesus thorn."
@Daniel_benessy reacted:
"Wait! For a moment ago I thought she was carrying a peacock on her head. What is this na."