Soso Soberekon shows off his huge private part, months after Harrysong body shamed him (Photo)
Months after being body shamed by singer, Harrysong, Music executive, Soso Soberekon has showed off his private part to prove him wrong.
Recall that last year, during their fight, Harrysong had body shamed Soso for having a small dick.
Proving him wrong, Soso Soberekon shared a photo of himself in his underwear, showing off his huge private part.
In his caption, he noted how every thing that has been said about him were all lies.
"Everything you've heard about chubby guys are all lies".
Last year, social media was agog when Harrysong had fired back at music executive, Soso Soberekon for filing a lawsuit against him.
Soso Soberekon had dragged the singer to court following his bombshell interview where he claimed that the latter tried to kill him.
Harrysong, who was unbothered with the suit, took to his Instagram story to slam him.
He stated that the music executive was also free to go on interview to respond to his allegations and went on to bodyshame him, referring to him as a man with small dick.
"You dey sue me for social media. Dem ask you question? With ur small prick and flat blockus. Empty konkom. You go chi chun thin".
Soso Soberekon, who was left furious with his reply, had arrested the singer, on arriving Lagos from a concert.
Unable to prove his allegations, Harrysong had tendered an unreserved apology to Soso.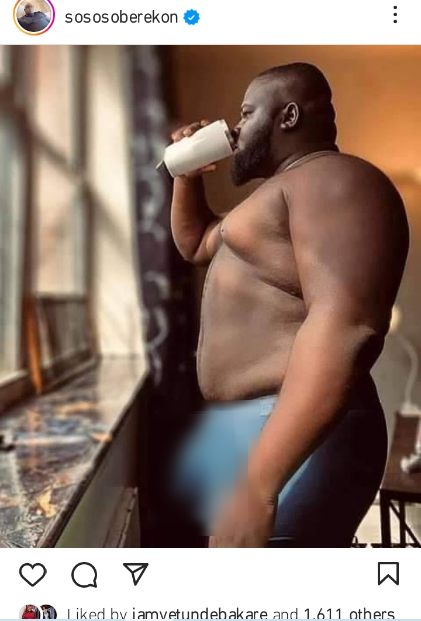 kemifilani