Tobi Amusan in tears as Nigerian national anthem is played after winning Gold
Emotional Tobi Amusan Sheds Tears As National Anthem Is Played After Winning Gold in World Record Time, There were emotional scenes in Oregon as the Nigerian national anthem was played after Tobi Amusan won gold for her country at the World Athletics Championship.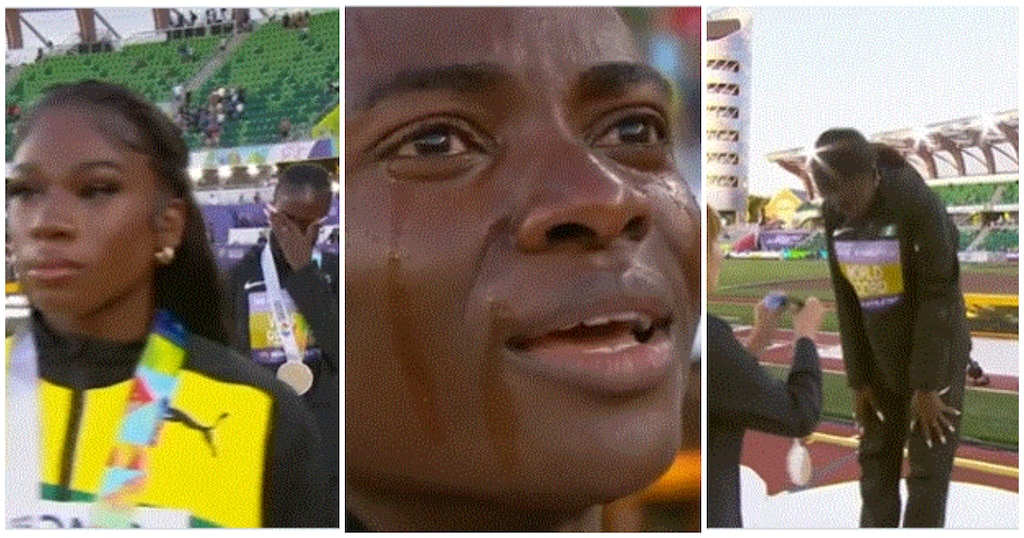 Amusan set a new world record in the women's 100m hurdles at the World Athletics Championships in Eugene, Oregon, United States.
France24 reports that during the first of three semi-finals earlier in the day, Amusan won her heat when she crossed the finished line at a time of 12.12 seconds, smashing the previous best of 12.20sec set by American Kendra Harrison in 2016.
Amusan then better the record in the final when she streaked to the finished line in 12.05 seconds to win gold at the event.
And she got emotional as the sound of the Nigerian national anthem reverberated around the stadium she could not help but shed tears.
While the anthem played, tears could be seen flowing down her cheeks, and that was what it meant to lead your country to break the world record.
Tobi Amusan tried hard not to cry singing the national anthem. She held the tears, but when that line: " the labour of our 'HEROES' past, shall never be in vain." It hit her…it dawned on her that she is now a HERO herself. The tears flowed😭😭🇳🇬🇳🇬pic.twitter.com/aMVlUhNe9h

— Making of Champions (@MakingOfChamps) July 25, 2022
World Athletics Championships tweeted:
"Breaks world record (12.12) in the semis. Storms to world 100m hurdles title in the final. Tobi Amusan is on another planet."