Toyin Lawani reveals how her children 'disgrace' her despite spending hard on them 2022
Famous Nigerian celebrity stylist Toyin Lawani has revealed how her children, Tiannah and Oluwatenola Jermaine, disgraced her on their arrival from Dubai.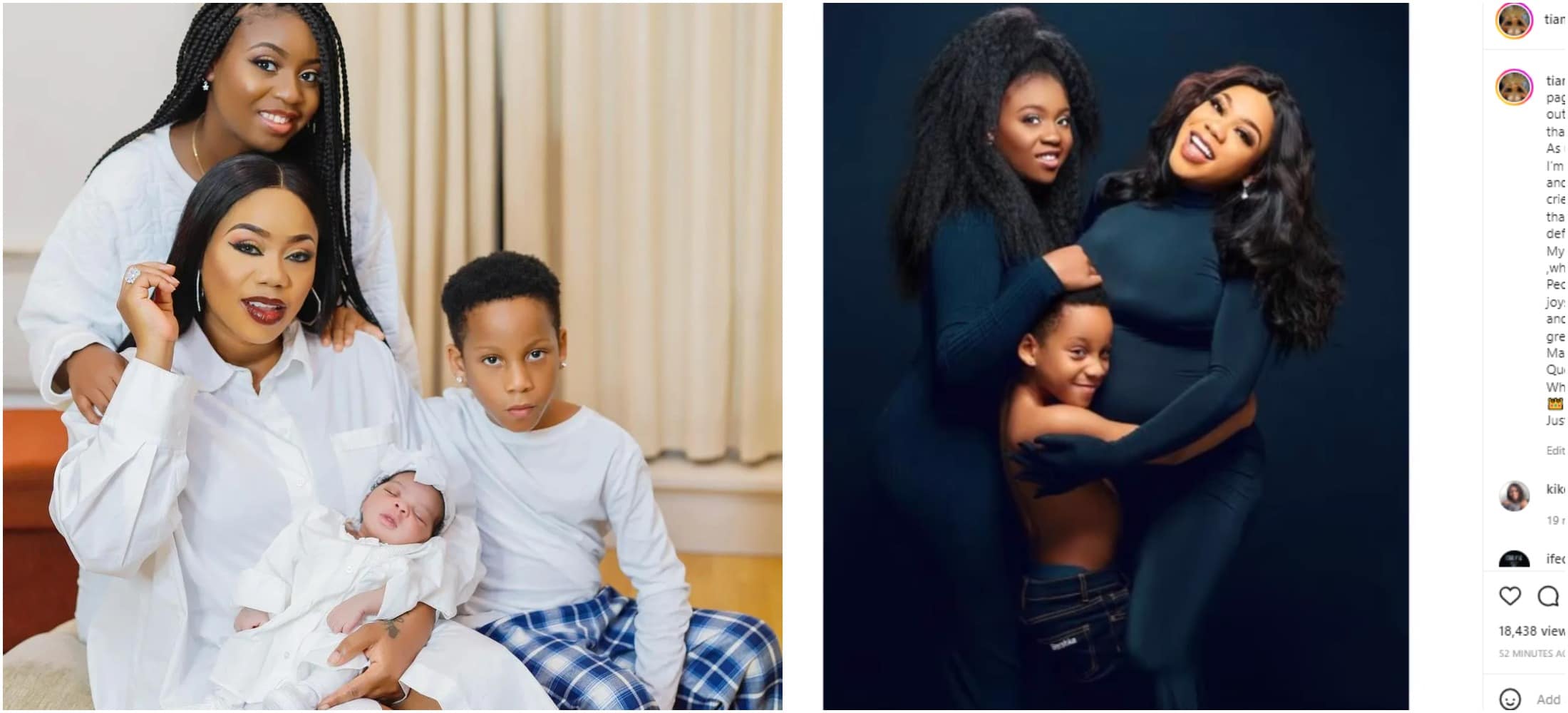 The mother of three shared a video where her two older children tried to surprise her with their return from holiday shopping in Dubai.
Toyin Lawani, who was not surprised by their return, was shocked when her children shopped for expensive items with her hard-earned income and did not remember her; instead, they bought sweets as a gift.
According to her, children can disgrace their parents unexpectedly.
She wrote: "Children will disgrace you,
I paid for this lavish trip, and they brought back sweet for me, after shopping for themselves, ok oo,
They have come back with their wahala
@thereallordmaine went to the mall and insisted he wasn't leaving till bought him Rolex with his pocket money ,
Uncle how much do you think Rolex is, just be managing your swatch for now oo jeje
Missed them so much"
Kemi Filani recalls that Toyin Lawani awoke the emotions of many when she disclosed her traumatic experience after losing her fourth child.
The mother of three revealed that she had undergone numerous surgeries, including fibroid surgeries, arthritis, and others.
Contrary to how people viewed her quick recovery after her third child through surgery, Toyin Lawani revealed she had to get back on her feet because she hates showing weakness.
"Tnks to everyone who reached out, God bless u all,
"Few months forward I found out I was pregnant again ,this wasn't planned atall&i and hubby said tell no one ,cse we weren't sure ,even when my friends said ,ure pregnant, I will just laugh abt it. And say no it's not there ,unfortunately I got so stressed &depressed, started bleeding as usual cse I bleed having all my kids ,from day one till due date, so felt it was normal ,but it took a huge turn& I lost it ,in the process I'm hearing I need a spine surgery I'm like how old I'm I…"
Kemi Filani also recalls that Toyin Lawani revealed what she told her eldest daughter, Tiannah, during an interview with media personality, Chude Jideonwo.
The controversial Toyin Lawani disclosed how she was disowned by her father at fourteen and started her life at sixteen without help and support from anyone.
The self-acclaimed fashion king also noted that she called her first daughter, Tiannah, to warn her about life, stating she no longer cares if she dies as she has made her decision regarding that aspect of her life.
Source: Kemi Filani