Williams Uchemba wonders why he's in pain while daughter takes immunisation
I'm in Pains: Williams Uchemba Shares Emotional Video As His Newborn Baby Takes Immunisation, Nigerians React, Ace Nollywood comic actor, Williams Uchemba, stirred massive reactions on social media after he shared a humbling fatherhood moment.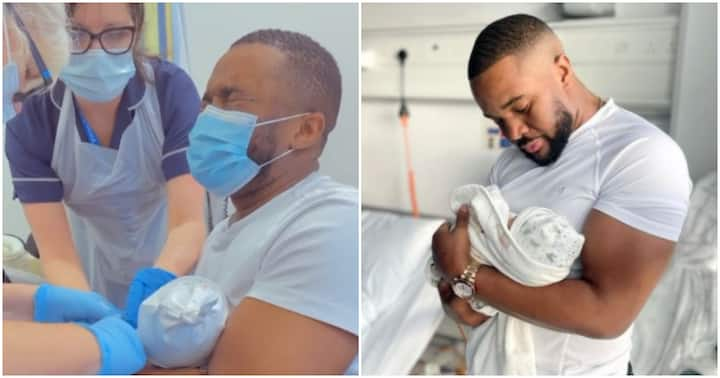 The actor took his newborn baby girl, Kamara Uchemba for her immunisation and shared the video of the moment on his Instagram page.
Williams was seen closing his eyes, gnashing his teeth as his little daughter took the dose of the injection and wondered why he is the one feeling the pains on her behalf
According to him:
"How can @kamarauchemba be having her immunization and I'm feeling the pain? Who can explain this please?"
Check out the father and daughter moment below:
`
`
Reactions
Nigerians have reacted differently to the actor's post about his beloved daughter, most of them feel it's because of the love he has for her.
some of the comments, read below:
Ebelleokaro:
"It's called LOVE."
Piusebere:
"That's how it will always be, that's definition of true love."
Fabulosgloria:
"It's called Parenting. Once your child arrives, they become an extension of you. If they feel pain, you feel it too. If they are sick, you become sick. If they are hungry same as you. They simply you, in a different body. And thats beautiful."
Jnnennaya:
"Wait till your son comes you will practically shed tears just for circumcision sake I cried like a baby 9days ago when my baby was circumcised…we give God all the glory for the grace and strength for parenting."
Msmaranatha:
"I imagine how God feels when I'm in pain! It's the way He fathers you that you Father her too You're a FATHER!"
Glamour__with__pearl:
"U are doing well Nna m. It's always like that, you will get used to it soon, I promise you."